|

Hello!
It's hard to believe that we are coming down the homestretch for 2019 and what a year it's been. It's great to head into the festive season with plenty of reasons to celebrate and also plenty of reasons to look forward to the chance to relax and recharge.
As you may be aware, this year The Icehouse has undertaken an important strategic review of our offering for Small Medium Enterprises (SMEs), to ensure we are future fit in delivering to the evolving needs of NZ SMEs. We have a strong formula of enabling transformation, but we're not perfect and we know we don't have all the answers, so we have rolled up our sleeves to get the facts so we can then better respond to the current and future needs of NZ's owner managed SMEs. Thank you to all of you who have contributed to this. The insights we have gained have been rich and exciting.
We have validated that our customers have four core needs to unlock their potential – (1) to learn, (2) to apply that learning, (3) to be held to account and (4) to connect with others. As trusted advisors what you expect from us is relevant, real-time, real-life, future-focused expert content. We have moved from discovery, which was about who and why, into design and develop which takes us to what and how. Stay tuned.
This year, we have continued to build our coaching and advisory talent pool and have welcomed a number of new delivery partners into the Icehouse stable.
Because all three Owner Manager Programmes this year, and the first one in 2020, are sold out we are excited about putting a fourth OMP in the calendar for 2020. In 2020 we will celebrate the 50th OMP and the 1000th OMPer.
Congratulations on more alumni achievements and events:
To Tim Aldridge and the team at Puro congratulation on breaking the PledgeMe crowd funding record!
To Carmen Vicelich and the team at Valocity on 2 recent awards – the International Business Excellence Award and the Global Fintech Start-up of the Year award at the prestigious India Fintech Awards (IFTA) 2019!!
To Glenn Brebner and the team at Boon for winning Taranaki's Supreme Business Award!
To the OMP18s who celebrated their 10-year milestone over an Icehouse dinner last month
And to the OMP17s who 11 years on gathered for their annual reunion, this time doing the Otago Rail Trail together.
Lastly, in November we partnered with OMP1 alumni John Buchanan of Mount Riley Wines to host an inaugural Charity Golf Day. We had a number of alums and others in the IH network take part in the event and we are looking to make this an annual affair (Mark your diary for November 13th 2020). All proceeds of the charity auction this year went to Outward Bound. Thanks to our alumni who donated items for the auction. We value your support and generosity.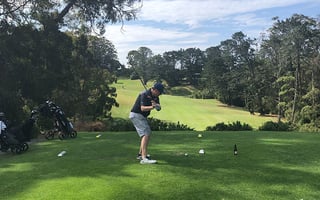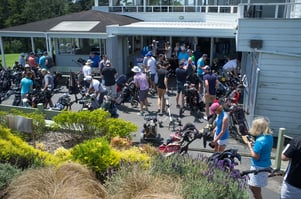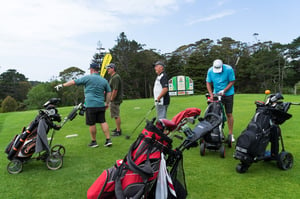 And for many of you, you will have had the pleasure of experiencing Sam Thom and his Ultimate Music Quiz as one of your OMP Team Challenges. Sam has been doing this for us for last 6 years at every OMP. We thought this could be of interest for an end of year function or an event with your team. Sam has run events for groups of 10 people to over 500. www.ultimatequiz.co.nz To enquire about dates & pricing contact Sam Thom on 021 979 979 / sam@ultimatequiz.co.nz He'd love to provide some fun and competitive entertainment for you!
Wishing you a wonderfully happy holiday season and a great start to 2020!
Cheers,
Liz